We are a Healthy Venue!
Since January 2023, World Forum The Hague has joined the Healthy Venues family, being the first in the Netherlands to have obtained the accreditation, and the 9th of the world. Healthy Venues is a quality mark accredited by the World Obesity Federation.
The accreditation encourages venues to provide healthy options to visitors and employees, and thus to minimize the negative health impacts of event-going. We are committed to providing delegates and event organizers with healthy eating and promoting physical activity.

''World Forum The Hague is a venue with endless possibilities and fifty years of experience in organizing events! We always work from our focal points: Safety & Security, Vitality, Sustainability, and Education. Vitality is a central and important part of conferences. We facilitate the continuation and improvement of a healthy lifestyle with our vitality program. Our food & beverage has also been adapted to this so our guests feel fitter during the conference, they can store more information and they go home energized. The well-being of our guests and our team is our priority, and we are proud to be a Healthy Venue!'' says our deputy manager and director of operations Marije Bouwman.


World Forum and Vitality
World Forum The Hague aims to make vitality a central and important part of conferences. Nowadays people are consciously concerned with health. World Forum The Hague therefore facilitates the continuation and improvement of a healthy lifestyle with this vitality programme. Power walking, yoga and running are among other things on offer. The food & beverage range has also been adapted to this, so that the visitor feels fitter during the conference, stores more information and does not go home completely exhausted. Menus have been specially developed by Richard de Leth for this purpose. drs. Richard de Leth is a specialist in health management and a changemaker when it comes to vitality and health. Got curious? See what World Forum The Hague is doing to promote a "healthy" event.
Active travel to and from our venue:
Public transport is an easy and convenient way to move around in The Hague. With the tram lines from HTM , tram station 'World Forum' & 'Johan de Wittlaan' are just around the corner from the venue's main entrances.
For delegates that prefer to arrive or leave by bike, bikes from the train station can be rented. These OV-bikes can be picked-up and left behind at every public train station in The Hague and surrounding cities. With HTM , you can rent a bike for just 5 euros a day and can drop your bike at over +/- 240 zones.
For those who would like to walk to World Forum the Hague, from central station it is just a 4 kilometer walk to our venue.
World Forum The Hague stimulates using the bike, for both the delegates and its employees. We currently have 2 areas where delegates can park their bike, with the option to offer up to 1.500 parking spots.
Facilities conducive for standing conferences, meetings and walking receptions
We offer a wide variety of options when it comes down to standing conferences and meetings, providing high tables additionally to the chairs for delegates that prefer to stand during a session. We offer standing tables in different sizes and shapes, ranging from 4 persons per high table to + 10 persons per high table.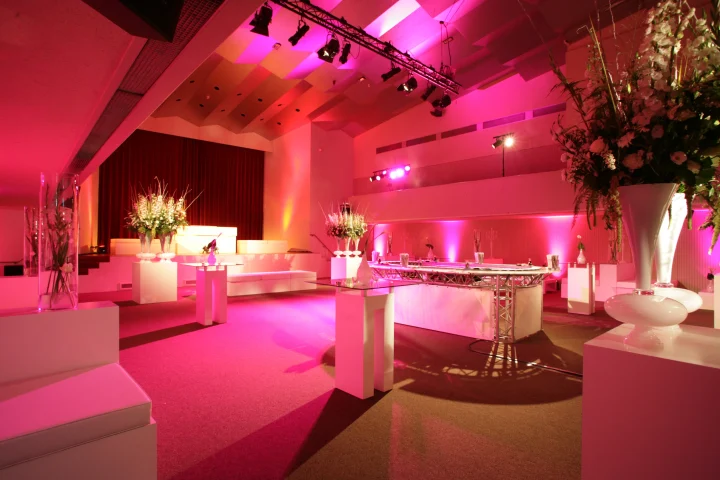 On the photograph above, an example of a walking reception
Community recreation facilities
Next to World Forum the Hague, one of the biggest nature parks within the city of The Hague can be found; Park Sorghvliet. The park has a square footage of 25 hectares.
The beach of Scheveningen is just a 2,8 kilometers away from World Forum the Hague.
World Forum The Hague is centrally located, offering multiple hotels in the near area on a walking distance.
Active/standing meetings for event planners
As event venue, we offer the possibility to event organizers to set up high-tables additionally to the chairs for delegates that prefer to stand. By providing high-tables, we promote participating in an active manner.
Depending on the size of the meeting, we offer ample room for walking-meetings and lecturers.
As venue, we support healthy catering options:
Food & Beverage (F&B) of World Forum The Hague is best described by three key pillars; Vitality, Sustainability and Innovation.
Vitality
At World Forum The Hague we have a philosophy: vitality can be a part of everyone's lifestyle. Therefore, we offer our clients a unique experience. Together with Richard de Leth, a vitality expert, World Forum went on a voyage of discovery to investigate what the conference guest needs to experience a conference energetically. Proper nutrition is essential to maintain concentration and attention even after a meal. In this way it allows every delegate the opportunity to continue a healthy lifestyle during the conference.
Sustainability
The F&B has sustainability not as a unique selling point, but as a given. Besides being jointly responsible for the Golden Green Key standard, ISO9001 and ISO20121 the World Forum annual sustainability report is divided into the following three categories:
Think green: No use of plastic, minimum of 50% ecological or locally sourced produce, all coffee and tea are ecological, minimum waste menu's and more.
Think people: Our cooperation with the 'The Koekfabriek', which work with local care partners to provide jobs for people who are at a distance from the labour market
Think local: World Forum promotes the use of tap water, which your guests can receive straight from the dunes at one of our many Dunea 'fresh water points' located throughout our venue.
Innovation
Every F&B proposal is custom made to best suit your event and provide the most hospitable experience possible. To do this, we monitor the developments within the F&B industry very closely and know how to push the limits within the World Forum.
Please note, we are more than delighted to create a tailor-made proposal for you.

Discover The Hague on a sporty way!
World Forum The Hague supports exercising! Therefore, we have created a runner/walking map of The Hague, through which you can enjoy the city through a fun and healthy way.